Discussion Starter
•
#1
•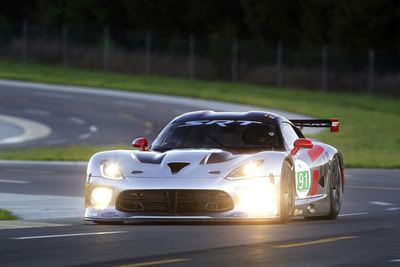 SRT has generously set aside
15
passes for LX & Beyond Nationals fans that own an SRT. Be one of the first to see the 2013 SRT Viper GTS-R return to American Le Mans Series (ALMS) Competition at Mid-Ohio Sports Car Course in Lexington, Ohio on Saturday, August 4.
No more than 30 days ago to the date, the SRT Motorsports team completed a recent SRT Viper GTS-R testing program at this same location before officials and team members deemed the car ready for ALMS competition. Two identical SRT Viper GTS-R cars will race at Mid-Ohio as part of a limited 2012 ALMS season. The factory team aims for a full GT championship run in 2013!
The 15 passes include exclusive SRT infield parking spots and entry ticket to the event itself. Your ride will be on formal display at the world's first view of the SRT Viper GTS-R in competition. SRT will have goody bags for everyone that is parked in the SRT coral. Viper Club of America – Ohio Region will have a tent at the SRT coral with beverages and a place to get out of the sun.
"We're thrilled to return to the world-class competition in the American Le Mans Series with our flagship American supercar," said Ralph Gilles, President and CEO – SRT Brand and Motorsports, Chrysler Group LLC. "The new SRT Viper GTS-R represents a rebirth for us on the race track. It epitomizes the best of what our new SRT performance brand represents and showcases the Viper's natural affinity for road courses. Now the time has finally come to go head-to-head with the best sports car teams from around the world."
Three full-time drivers currently are signed to drive including Dominik Farnbacher, from Ansbach, Germany; Marc Goossens from Geel, Belgium; and Kuno Wittmer from Montreal. Ryan Hunter-Reay from Dallas will join the team for the longer endurance races. Additional driver and team announcements will be forthcoming.
Mid-Ohio Sports Car Course
7721 Steam Corners Road, Lexington, Ohio 44904-0108 | 800.643.6446
Saturday, August 4, 2012​
TO QUALIFY YOU MUST DRIVE AN SRT TO THE EVENT:
Be one of the first 15 people to send an email to

[email protected]

Include in the subject line: "Viper GTS-R Ohio"
Passes are on a first-come, first-served basis
One pass per person
To take advantage must drive your SRT4, SRT6, SRT8, SRT10 or Prowler to the race
We are unable to provide additional tickets, but they can be purchased at www.midohio.com
You're considered part of the event: shine up your ride to represent SRT, because your car will be on formal display.
Questions?​
Anthony Carter – President/Founder, LX & Beyond Nationals
614.633.8033,
[email protected]